GREAT FEATURE
Best 6 Color Offset Printing Machine for Sale Price
Max Speed: 120pcs/minute (Depends on products)
Color: 1-8 color, customization
Suitable for : Cosmetic tubes, Silicon Sealants, Aluminum Caps, Paper Cups
Product Diameter Scope:10~120mm
Motor Power: Driving Wheel 3.7kw; Driver for printing plate 2.2kw; driver chain 2.2kw; Driver for ink stick 0.06kw
Price: $100,000 whole set header+long oven(the price of header and short oven please contact with sales)
Applications– Sample of Offset Printer for sale
| | |
| --- | --- |
| Product dimension: | φ16-φ60mm 20-18-mm depend on products |
| Capacity: | 80-100pcs/min |
| Motor power for Driving wheel | 3.7KW-1pcs |
| Motor for printing plate | 2.2KW–1pcs |
| Motor for drive chain | 2.2KW-1pcs |
| Motor for driving ink stick | 0.06KW—6pcs |
| PrinterMainMotor | 7.5HP(5.5KW) |
| Cuttingsystemmainmotor | 3HP(2.2KW) |
| Roaster main motor | 3HP(2.2KW) |
| Driv emotor | 90W+90W+90W=270W=0.27KW |
| UV drying system | 10KW |
| Static eliminator system | 1.5KW |
| Roaster heating system | 1.2KW*4=4.8KW |
| Working air pressure | 0.4-0.8Mpa |
| Working voltage | 380V/420V Can customize any Voltage |
| External dimensions Printing head : | 3200*1600*1800mm |
| Drvingoven:3000kg | 9500*1000*2000mm |
| weight Printinghead: | 4000kg |
| weight Drying oven: | 3000kg |
| | | |
| --- | --- | --- |
| No | Name | Remark (maufacturer ) |
| 1 | Motor | Hanshin |
| 2 | frequency transformer | Panasonic |
| 3 | Gear | imported material |
| 4 | PLC | Mitsubishi |
| 5 | robot arm system | THK |
| 6 | Splitter | Japan |
| 7 | Clutch | Japan |
| 8 | Feeder System | THK |
| 9 | Transmission | Schneider |
| 10 | electronic control | Omoron |
| 11 | Bearing | Japan |
| 12 | Cylinder | Japan |
| 13 | voltage protector | France |
| 14 | low-voltage apparatus | France |
| 15 | Big Wheel | CNC |
| 16 | conveyor | Japan |
| 17 | Mandrel rods | imported material |
Offset Printer for sale Video
Contact With Us Immediately
Tel: +86 2166037855
Email: dinglili@linkerprinter.com
Mobile/What's app: +86 18019763531
Description:
6 color offset printing machinePlease read this manual before operating the printing machine!Ⅰ.Main usage of 6 color offset printing machine:It's use for 1-6 color(s) printing, glazing and drying of plastic tubes in packing industry.
I will give the best quotation to you at the first time. If there is anything we can do for you, we shall be more than pleased to do so. Hope we can build good cooperation with you. Looking forward to your enquiry!
Features of 6 color offset printing machine:

1) It applies Taiwan-made delicate indexing unit of 180mm centre distance to drive the printing table, so as to guarantee the stability in high speed and the long service life of the indexing unit.

2) Taiwan-made indexing unit and special-made rolling screw mandrel help the process of transferring tubes from printing table to chain.


3) There are only a few cables connecting the printing machine and dryer, it's convenient to install & future move, also make it possible to place the printing machine downstairs while dryer upstairs, which is space-saving & labor-saving.

4)The dryer applies direct heating method, which reduces heat wastage.


5) Gears of the printing part are processed with precise grinding technique, so as to guarantee their precision and service life, this does help the precision of overprint greatly.


6) The dryer is made up of 2 parts: front part is laminar current & UV treatment, latter part is infrared heating; the gloss is effectual with special laminar current, so as to be less depend on the smoothness of gloss roll surface, and then the gloss roll doesn't need frequent polishing.

7) Move-back-design of printing table: when tube absent from printing bar, the whole printing table will move back for 5mm, to avoid ink polluting the printing bar.
Operation manual of 6 color offset printing machine
Check before start up
(1) Check the connection between mechanical part & electrical part of the printing machine, make sure to find out and eliminate the potential safety hazard before start up.
(2) Check if the mechanical part is clean enough, especially the components of ink sink and gloss roll; no dirt is allowed in places like printing transfer wheel, tube ejecting table, UV lamp hanger, chain rest, etc.

Power on/off
(1) Power control of the printing machine is composed of 2 parts: general power switch & sub-power switches; general power switch controls power supply to the whole printing machine, it connects to the external power network; the sub-power switches control the power supply to each operation part, by mounting in each corresponding area.
(2) When start the machine, turn on the general power switch first, then turn on power switches of each control part, finally operate the switches/keys according to relevant working part. 2.3. Before power off, stop each the work of each part, then shut off the power switch, finally turn off the general power switch.


Electrical operation principle & usage of printing machine:

(1)Operation zone 1

3.1.1. Manual operation mode:
3.1.1.1【Printing wheel jogging】&【Printing table jogging】are used for manual operation like tuning plate, replacing roller and cleaning, etc.【Printing wheel jogging】is used for manual operation of printing wheel.【Printing wheel jogging】Is used for manual operation of rotation wheel.
3.1.1.2【Auto/manual】is used for interlock and manual/jogging operation mode of the whole machine, please select different position in accordance with different usage.
3.1.2 Auto mode:
3.1.2.1 full interlock state: When 【Printing wheel jogging】&【Printing table jogging】is in "OFF" mode and 【Auto/manual】is in "ON" mode, press【Start】to put the machine into full interlock working state. Let the machine to run in the setting low speed to finish the search, and then let the chain contraposition and start up normally after searching; if the chain can't start up normally after searching, please check if the photoelectric switch above the chain works or not, or if the host machine speed regulator works(except manual mode all other modes have search process), press 【Stop】 to stop working.
3.1.2.2 Semi-interlock mode: In the above mentioned usage, only need to turn 【Auto/manual】to manual mode, and repeat the operation as per step 1, semi-interlock will be achieved—-only glossing, no printing; the transfer printing wheel is still at the moment.
3.1.2.3 About the chain: In above mentioned step 1&2 state, when 【Chain interlock】of operation zone 2 is placed in interlock state in the right position, the chain must keep moving to guarantee the normal operation of full machine interlock & semi-interlock state, otherwise it would only keep searching process but not able to start up (refer to operation zone 2 for more detail)
3.1.2.4 Press【Emergency stop】key in any circumstance,the machine will stop in soonest time.
3.2 Operation zone 2:

3.2.1 Power supply:
3.2.1.1 【Control start】&【Control stop】are power supply switches of the second control circuit of the printing table. Press【Control start】key to turn on the power supply before start up the machine, so as to guarantee both operation zone 2 & 1 work normally. Please turn on this control power before turning on the UV lamp, in order to guarantee the PLC communication go well.
3.2.1.2.【Inverter power】is the power switch for the 2 inverters in this operation zone; the first one from the left is for axes (abrasive wheel) motor, the second one is for gloss wheel motor. Must turn on the inverter power before turn on 【Axes start】& 【Gloss start】, otherwise the axes motor and gloss wheel motor can not work. Restart 【Axes start】&【Gloss start】can eliminate start-up disorder problem.
3.2.2.Chain mode:
3.2.2.1.【Chain interlock】switch controls free movement and interlock state of the chain. Turn it to the left side to shut down the interlock state when the machine is in tuned plate state, the chain movement state doesn't affect tuned plate state.
3.2.2.2.When the machine is in normal full interlock or semi-interlock state, 【Chain interlock】key shall be placed to the right as interlock state, also make sure the chain is working, so that normal operation of operation zone 1 can be achieved. When the machine stops, the chain will go back to free moving state.
3.2.3. Speed setting:
3.2.3.1 Speed regulation of axes motor inverter and glossing inverter is adjusted by the rotary button (regulation resistance) on the inverter control panel; 【Host machine speed regulation】key is used for speed setting during full interlock or semi-interlock state; before start up, contrarotate the regulation resistance to the minimum speed, then accelerate during start up to the target printing speed. 【Chain speed regulation】is for speed setting during chain free movement; when the machine is in interlock state, it doesn't work; when the printing machine is in standby state waiting for unloading tubes, please adjust the chain speed to be same as the one during printing machine operation, so as to prevent tube deformation due to overheat in dryer.
3.3. Operation zone 3:
Data information display:
3.3.1 Ammeter, thermal meter, indicator light are used for displaying data information of each corresponding function.
3.3.2 Human-machine interface displays the operation of each data information & function(refer to human-machine interface operation manual of printing machine for details )

3.4. Operation zone 4:

The printing machine can print up to 5~6 colors (as per customer's inquiry); operation setting of each ink sink independent; there are manual stop and auto control functions; during normal operation, put the toggle switch to auto position, to set the on/off time of time relay, and operation speed of the ink motor by adjusting the setting of regulation resistance, so as to find the best printing time. Auto control can only be achieved when the printing wheel is in operation state, when printing machine stops, all ink motors is also in still state. When convert the switch to manual position, the machine will be in manual tuning state, this operation can start without any control. Put the switch to "stop position when the relative ink sink is not used.
Printer Header Pictures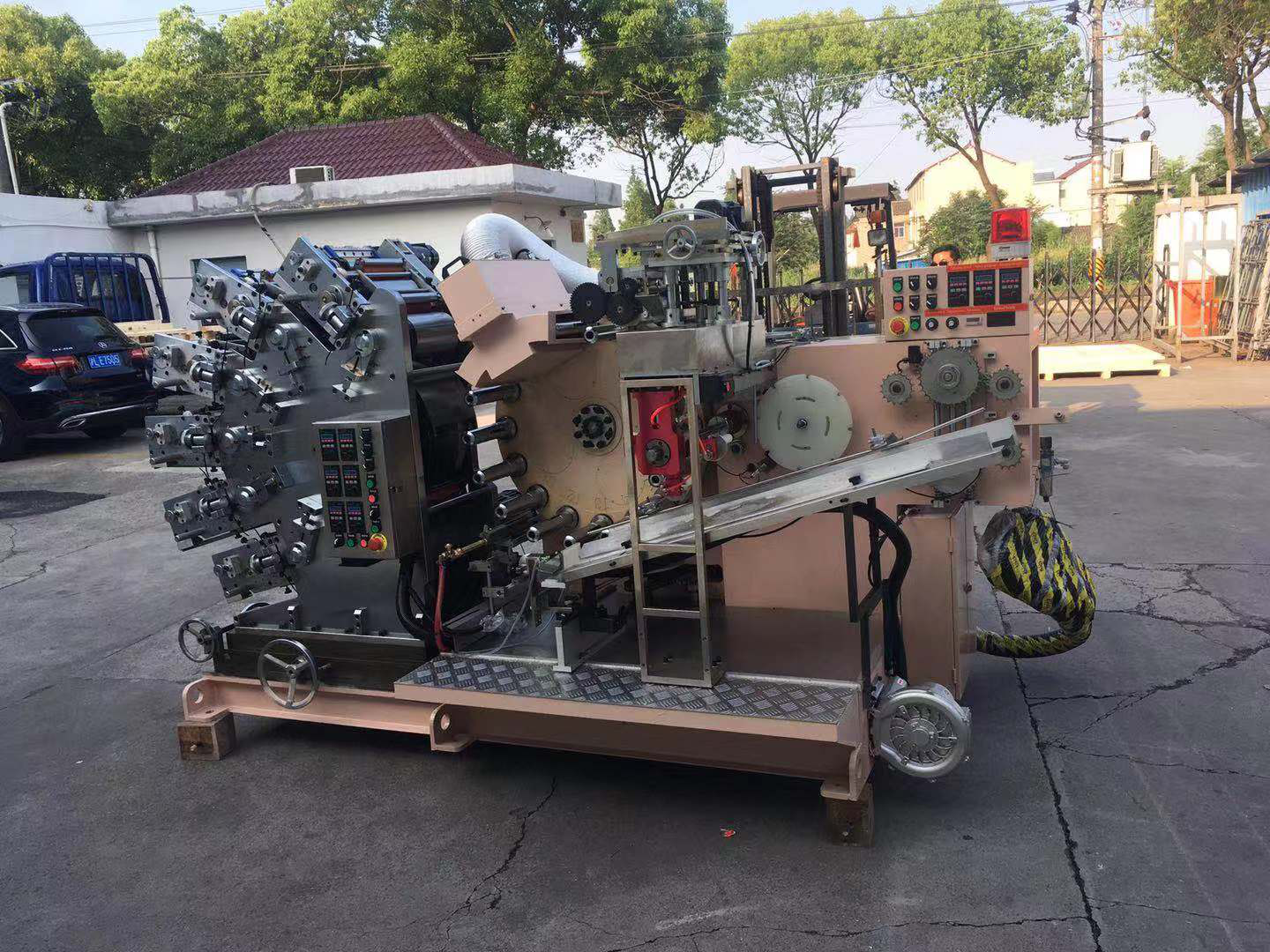 Oven Pictures & Spare Parts
FAQ